So I am super excited...I was a featured blogger yesterday over at
What Allie's Making Now!
Allie has a super cute blog that I have been following for awhile. She has amazing sew skills that I wish I could borrow for just a day! She makes the most adorable dresses for her sweet little girl and even makes some for herself! Totally jealous.
Please go check her
site
out and show her some Real Life Mom love :). This is what I shared yesterday.....
Today, I am going to introduce you to part of my homemade Christmas by showing you how I created a Dream Catcher night lite for my daughters room. We currently use a lamp in her room that acts as a night lite but the lamp will soon be replaced leaving us with no night lite. So I decided to get a little creative since all the outlets in her room are covered by furniture. Alright, so here it goes:
Supplies:
Outdoor lantern of your choice (don't worry about the color...it can be fixed!)
Spray paint in coordinating color of room
Pretty chandelier ornament (I found mine at Home Good's on clearance!)
Eye Hook (from any home improvement store)
Flameless candle (hello Dollar General!)
Fishing string
This is the pretty little ornament I found! Gorgeous right?
To start, remove the glass panels from lantern and spray paint lantern in your choice of color. I went with pink to go with the girls room.
Next, drill hole (I enlisted the help of my husband for this although it is very easy to do) at top of lantern from the inside. Make sure drill hole is just large enough to fit hook.
(Make sure blogger/your computer randomly turns photos and leaves you helpless to turn said photo back to normal...this step is vital!)
Screw hook into the hole. I also used a little hot glue around the hook....just for good measure
Replace glass on lantern.
I created a loop from the fishing string connected to the ornament. I used this since it is clear so that you wouldn't notice it. Hang ornament and light/place flameless candle at the bottom. Guess what?!? You are done! I told you...I only do simple!
I love how whimsical and girly it turned out! That's why I call it a Dream Catcher....it is beautiful enough to capture all her dreams in one little place.
And I love how the paint cracked a little giving it a more vintage look.
If you are here from What Allie's Making Now...thanks so much for stopping by!
I would love to see what you are all up to these days! Any projects, thoughts, travels? I cannot WAIT to show you what I've been up to! I'm pretty sure you will love it :)
Be sure to check out Tinder Designs! Jennifer is the owner of this wonderful etsy boutique and she has AMAZING products! We are the proud owners of one of Jennifer's incredible cart covers. The quality is unbeatable! And be sure to mention The Real Life Mom for FREE shipping! The Real Life Mom is proud to display Tinder Designs banner as a sponsor!
How exciting! This project was featured!!!
Thanks Bella!!!
I like to share. Check it out!
Be Different Act Normal
Sunday Showcase
I heart naptime
Keeping it Simple
Santas Gift Shoppe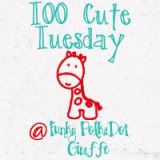 Amazing me August @Bella Before and After
Paisley Passions
Shabby Nest